Greetings from sunny Orlando! I've been here this week for work. I heard reports of snow flurries from my husband this past weekend, so I was not too upset to be in the sunshine state.
It's December and Christmas season is officially upon us (although some stores have been trying to push it since October).
Are you a runner? Do you have running friends? Does your spouse love to run or do you have someone who always says – I never know what to get you/you are so hard to shop for? Well then, I have the list you need. Send them the link to this post; ensure you get what you need.
In honor of the 12 days of Christmas, here are the 12 best stocking stuffers for runners, just in case Santa needs a few suggestions.
1. Runner's World – This is a pretty stellar gift that keeps on giving for a solid 12 months. It's chocked full of helpful advice, training plans and the cover always features a superstar (i.e. Kara Goucher).
(source)
2. Nuun (pronounced NOON like the time of day) – These little tasty tablets are amazing for staying hydrated and can also be used to create fun cocktails. Double win.
3. A new water bottle – Not every running route has a plethora of water fountains and carrying around a standard bottle of water is a bit annoying. Hand-held water bottles are super convenient and a super gift for your favorite runner.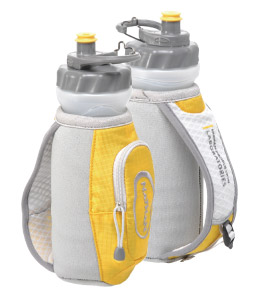 (source)
4. New earphones – If your running friend/spouse/person of interest is like me, they may be always forgetting their headphones or tend to wear out headphones pretty quickly. Seriously, who wants to run with headphones that only work some of the time. Headphones are always a great gift. Helpful advice – if you have an animal, do not leave headphones laying around the house. I once got some fantastic headphones as a gift and my kitten ate through them in all of 4 hours.
5. believe i am training journal – Read the full story behind this company at the link below and be impressed.  I bought one of these as a gift for a friend and hope that she loves it as much as I did.
http://believeiam.com/featured/training-diary/
6. For Santas with big wallets, a new Garmin watch would be a lovely gift. The new Garmin will be the bad boy of all the recipient's running gadgets. Everyone likes the bad boy. Get this and you might not need any mistletoe for a sweet thank you kiss.
(source)
7. Hair Bands – For the men in the room, you might not need a hair band but for the ladies, hair bands are key. For those of us who are blessed/cursed with the most massively thick hair or even those who have a bit less, hair bands are as essential as running shoes. These are super cute and who doesn't love a little fun headband action while you are kicking out the miles.
Got to www.bicbands.com to get these.
8. A Sparkle Skirt – Bling is very big for the holidays, and everyone needs a little something sparkly. If you aren't in the market for diamonds, a sparkly skirt is right up your price range alley. Also, I think a nice sparkle skirt stands out wonderfully in races so you can spot your favorite runner instead of having them wave frantically at you and yell things like "WHY DID YOU LET ME SIGN UP FOR ANOTHER MARATHON." From stories that people I know have told, this sometimes happens at mile 20 of a marathon run by a curly haired Cajun with a pulled hamstring.
(source)
9. New Socks – Nothing stinks more (no pun intended) than bad socks. Cotton socks and running go together as well as Cajuns and uptight people. My personal new favorite socks are Swiftwick. They are comfortable and hold up to long distance training runs and races.
10. Body Glide – What doesn't say Merry Christmas like a little non-chafing action. You don't have to understand it, just go out and purchase and place in the stocking. Most running stores carry this little gem.
11. Safety light – As the daylight hours fade, safety on the road becomes a greater concern. Keep your favorite runner safe with a great blinking light. You could also tag along for a run with your favorite runner if it's say really dark outside and they are maybe scared. Running buddy = gift in and of itself. Nathan's is a great brand for these. I also found a great one at my local Fleet Feet store.
12. I <3 Sweat Shirt – Last, but certainly not least, every great runner loves sweat. In order to run, you have to enjoy it just a wee bit. So, why not wear your love on your shirt. These shirts, designed by Ali – the girl behind the Ali on the Run blog, raise money for the Crohns and Colitis foundation. Not only are these stylish but they support a great cause. Win. Win. Sweat.
Happy Shopping!